Ice Cream Cakes & Pies
Kelley Country Creamery offers a wide variety of ice cream cakes to meet all your birthday, anniversary, graduation, baptism, confirmation or any other special occasion needs. We have the traditional half Whitewash Vanilla/half Udderly Comforting Chocolate with chocolate cake crunch and fudge available in our reach-in freezer daily. Custom cakes are also available, create your own cake by choosing two of our 300+ ice cream flavors and a filling. (48 Hour notice if flavors are available)
ALL CAKE ORDERS FOR WEEKEND PICKUP (SATURDAY AND SUNDAY) MUST BE ORDERED BY THURSDAY AT NOON.
**Please call to place cake order (920-923-1715), we do not take emails for cakes orders. 
Fillings
Hot Fudge, Caramel, Strawberry, Raspberry, Graham Cracker, Chocolate Cookie Crunch, and Candy Bars etc.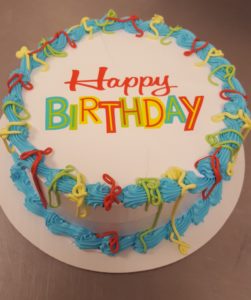 Cake combination ideas
Butter Pecan Ice Cream/Whitewash Vanilla Ice Cream with a pecan and caramel filling
Udderly Comforting Chocolate/Strawberry Ice Cream with a strawberry and chocolate filling
Strawberry Cheesecake/Blueberry Cheesecake with a Graham cracker filling
Holstein Ice Cream (cookies and cream)/Karen's Crazy Cake with a Twix candy bar filling (WOW!)
The possibilities are as numerous as your imagination!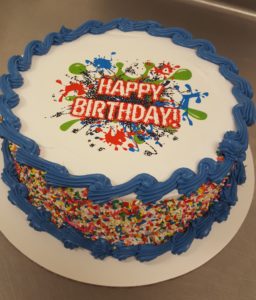 7 inch round cake: serves 8 – 10 people
9 inch round cake: serves 10 – 12 people
1/4 sheet (9×13) rectangle cake: serves 20 – 25 people
*Please call or email for further information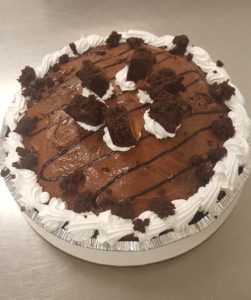 Ice Cream Pies
We also offer 9-inch ice cream pies in any one of our 300+ Flavors with either a graham cracker crust or a chocolate cookie crust.
9 inch pie: serves 6 – 8 people
Additional Cake Designs